In Loving Memory
Kathy Schell
It is with great sadness that I share news of the passing of member, Kathy Schell. Kathy loved showing her dogs in obedience and often volunteered to help at our events. 
We received a lovely donation from Kathy's training group and this note:
We are sending a gift in memory of our dear friend and training partner Kathy Schell. She loved training and competing with her dogs and the bond that creates. Kathy was born November 16,1950, and passed away April 4th, 2022.We miss her. As her sister pointed out: Kathy loved horses, then dogs and all the activities and good friends associated with them. Horse friends, dog friends, work friends, neighbor friends and family. Kathy loved her life! 
PDOC will be dedicating or October trials to Kathy's memory this year. She will be greatly missed by all who were lucky enough to know her. 

Theresa Temple
PDOC Secretary
Shannon Rollins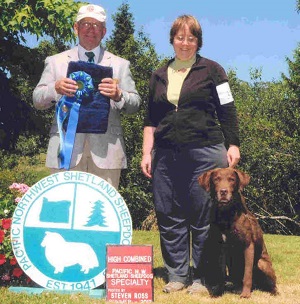 Shannon is greatly missed by those of us who were lucky enough to know her. She always helped when she was able and was very kind and supportive to all of her friends.
~~The Portland Dog Obedience Club dedicates the July 19, 2014 show in memory of Shannon Rollins.
May 15, 1966 – May 25, 2014.
Shannon was introduced to dogs at the age of six months. At the age of five, she obtained her first Chesapeake Bay Retriever while living in Alaska. Her love for dogs was evident throughout her life as her interest revolved around learning more and more about dogs and training.
While in high school Shannon participated in a vocational program, where she spent time at the Wildwood Kennels in Tok, Alaska. There she learned about sled dogs and good dog breeding.
Shannon graduated high school as a member of the National Honor Society. Her graduation picture included her Chesapeake named Fudge. After high school Shannon and her Chesapeake named Penny went on to attend Walla Walla College.
Shannon married Joseph Rollins in Walla Walla on June 2, 1984.
She continued her education in the world of dog training and was a graduate of the National K-9 Professional Dog Training School in Columbus, Ohio, with an emphasis on drug detection, search and rescue and personal protection work.
Shannon and her husband founded Canton Kennels in Craig, Alaska.
After moving to Portland, Oregon, Shannon was able to expand her love of training, showing and the breeding of her Chesapeake's, under the name of Aksala Chesapeake's. Her kennel motto was "Everybody Loves a Well-Trained Dog", and as a trainer, she was often heard to say, "Why do you let your dog do that?"
Through the years, Shannon's Chesapeake Bay Retrievers received recognition of their training and breeding from the American Kennel Club and her breed parent club.
Shannon had a strong love of Family, and often saw the good in people when others did not. Joe and Shannon often helped those less fortunate and at times opened their home to those in need.
As a final gesture to assist others in need, Shannon donated her body to science in the hope that it would help others who may have Cancer or other health problems.
Shannon was an active and giving member of the Portland Dog Obedience Club, often volunteering in any why that she could in support of the club and its activities.
Shannon will be missed!
*****************
~~I remember the first time I met Shannon at one of our Supported Entries at Banks. She had come down from Craig to check out the area prior to moving down permanently. She was so enthusiastic about the Chesapeake breed and being involved with the club down here that I was impressed with her from the start. After she and Joe and Katie moved down with several Chessies she became an ardent supporter of Chesapeake activities in Oregon which I really appreciated as the regional director. Whether we had activities in the Portland area or down in the Eugene area or in Central Oregon, she was there with her dogs. It was also fun to see her transform from mostly showing in the breed ring to being a first rate obedience trainer and competitor. She was instrumental in getting the Chesapeake teams together for team competitions at obedience trials and specialties. It was so much fun "getting our acts together'.
Specialties up and down the West Coast were also so much fun because of Shannon and her family and group. You could always count on Joe to fix things that needed fixing and help out where needed. The Tacoma, Washington Specialty was especially memorable because Shannon's whole family pitched in and helped with the tracking test. The tracking community still talks about the wonderful lunch (Alaskan flavor) that Shannon and Sunny put on. In more recent years, I have watched not only Shannon's own dogs but dogs she has bred do well in obedience and know how proud she was of all of them. I know one of her deepest regrets was not being able to go all the way in obedience with Never due to his injury because to potential was certainly there.
It is with deepest sympathy for Joe and Shannon's family that I write this in hopes that you will know
that we will all miss Shannon. Hers was a life well lived even though it ended too soon.
Sincerely,
Sally Diess

~~LIFE SKETCH 0f Shannon Rollins – May 15, 1966 – May 25. 2014 (From Sonnie Anderson)
Shannon Berniece Anderson was born in Clarkston, WA to Gilbert and Sonnie Anderson, on May 15, 1966, and changed their life forever, as God loaned them a tiny, newborn daughter to raise.
Shannon showed love for animals when she was introduced to the family dog, a Redbone Hound, at age 6 months. Shannon became the big sister to Kay at 13 months. She tried to show her new baby sister the birds, flowers, and the dog. She became the planner for activities to do together. Most of the time they were good, and fun, but sometimes not so good and got them both strict discipline from their parents.
In 1968 Shannon moved with her family to Alaska. Shannon grew up primarily in logging camps in southern southeast Alaska and attended one room schools. Through the state library she received 20 books per month to read. (mostly non-fiction about dog and training dogs)
Her life with Chesapeake Bay Retrievers began at age 5 when, after much research on dogs by her dad, he bought her her first Chessie, Stormy. Shannon and her dad trained Stormy in obedience and duck hunting. Shannon picked up trash around camp when Stormy got in the garbage because Stormy was her dog. Shannon entered Stormy in a dog show at the Prince of Wales Island fair judged by Mrs. America. Stormy won grand champion of all the animals entered. Shannon and Kay bathed Stormy in preparation for the fair. Later her mom found out Shannon brushed Stormy's teeth with her mother's toothbrush.
When Shannon was age 6, she asked for a harness for Stormy and would hook her up to a sled. At Christmastime Shannon, Kay and Mom would hike a mile or so out of camp to cut down the Christmas tree. Shannon attached the tree to Stormy's harness and Stormy proudly pulled it home. Stormy was a constant companion to Shannon during their growing up years.
Shannon spent a great deal of time on the ocean on her family's commercial fishing , the GoldCoast, along with her Chesapeake, Stormy. She continued to love to fish throughout her lifetime.
Shannon and her family moved to the big city of Craig, AK (population around 800) where she began her sophomore year in high school. It was the first time she lived in a community large enough to have churches . She attended the Craig Seventh Day Adventist church. Shannon had her graduation picture taken with her Chesapeake, Fudge, which was very uncommon at that time.
Shannon had a great interest in science and studying dogs. The high school sent her to Wildwood Kennels in Tok, AK as part of the Rural Student Vocational Program known as RSVP. Shannon was invited back to spend the summer with Sue, the owner. There she learned about Alaska sled dogs and Chesapeakes, their heritage, and good dog breeding tactics. Shannon bought a puppy she named Pretty Penelope from Sue which began her career of breeding Chesapeakes. She bought another Chesapeake, Fudge, with her first Alaska Permanent Fund Dividend, which was $1000.00. The rest of her
Alaska dividends went into her college fund.
Shannon graduated from Prince of Wales High School in Craig, AK as a member of the National Honor Society. She also met her future husband Joe in Craig. She attended Walla Walla College.( yes, she took her Chesapeake, Penny with her) When Shannon and Kay left for college folks asked her dad whether they were going for their MRS degree. He responded that he didn't think so because if Shannon married, the man would have to bark and eat dog food. A few months later Joe asked him for Shannon's hand in marriage. She married Joseph Rollins in Walla Walla on June 2, 1984.
The young couple made their home in Craig, AK. Shannon's precious daughter Katie Jo became Alaska's newest citizen on Valentine's Day in 1986. Shannon and Joe flew to the nearest hospital in Ketchikan on the first floatplane out while Shannon was in labor. The expectant grandmother flew on the second plane out (about 10 minutes later) and made it to the hospital in time for Joe to say,"Here Grandma, meet Katie Jo, your first grandchild." Katie Jo came back to the island on the Alaska Marine Highway ferry. The fare at that time was $11.00. Shannon said she got her dearest wish, a baby girl. Upon hearing a baby cry the dogs Major, Penny, BB & Trooper howled in sorrow. The next day mommy introduced BB and Penny to the new family addition.
Shannon graduated from National K-9 professional dog training school in Columbus, Ohio. Her educational emphasis was drug detection, search and rescue, tracking, and personal protection. She also completed the Tara Lara Dog Grooming School in Portland, OR. She then started a grooming, boarding and training facility she named Canton Kennels in Craig, AK.
Shannon and Joe moved to the Portland, OR area to put Katie Jo in an Adventist school. After the family moved to the Portland, OR area, Shannon became more aggressively involved in showing dogs and later found her interest to be more in competitive obedience and training where she completed several high scoring titles in the Chesapeake Bay breed with her dogs WaterLou, Sarge, Never, Totem, and others. Shannon has received many honors with her Chesapeakes. Among them Never was the top scoring obedience Chesapeake in the US for 2 years and received an invitation to the once per year, by invitation only, national obedience specialty trial. She helped train other dog owners for obedience titles. She also received a bronze show championship on Totem . She received a breeder of merit award from AKC and was a good standing member of the American Chesapeake Club.
Shannon found many friends closer than family within the dog training community and enjoyed dog activities within the breed and with other dog enthusiasts. She enjoyed every minute of her time spent in creating and breeding Aksala Chesapeakes. Her kennel motto is "Everybody Loves a Well-Trained Dog." As a teacher she commonly asked "Why do you let your dog do that?"
Shannon lived an active outdoor lifestyle and was very health conscious. In fact, she was affectionately known as the "Food Police" to her family. She was an avid outdoor sportswoman and hunter. She loved cooking, reading, Scrabble, garage sales, second hand stores, gardening and animals. Shannon and Joe often helped more unfortunate people get a step up in life.
Shannon liked get-togethers and especially enjoyed helping to plan her only daughter's wedding. She also planned a covered wagon train extended family vacation in North Dakota to celebrate her, her parent's, and her sister's wedding anniversaries.
After returning from this trip she wasn't feeling well. Joe took her to the hospital where she was admitted and diagnosed with metastasized melanoma cancer, stage IV. She was referred to an oncologist, a specialist in melanoma, Dr. Lufkin. Dr. Lufkin and his team, including his nurse Amber provided the best care and support one could hope for. All available medicines were utilized, which gave Shannon an extension of life for 6 months.
Shannon and Joe both believed in strong marriage values and until death do us part.  Joe continued to be a loving, tender husband who supported Shannon in all of her interests and throughout her illness.
Shannon was loved and cherished by many and will be missed dearly.
Shannon made the decision to donate her body to the Oregon  Health & Science University, School of Medicine, in hopes they may be able to help another who may have Cancer (Melanoma), or other health problems.
Shannon's family would like to thank all who assisted during her extended illness. We hope you will perform some unexpected act of kindness for someone in need, in remembrance of her.   Donations in memory of Shannon Berniece Rollins can be made to Adventist Health Hospice.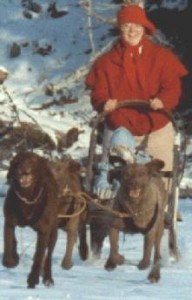 PAMELA A WEAVER-JAEGER
Pam was a longtime friend to the Northwest Dog Fancy and is dearly missed.
CELEBRATION OF LIFE
When: Saturday, October 22, 2016, 2:00 PM
Where: Pam's Red Barn, 20604 South Springwater Road, Estacada, Oregon
This location is 2 driveways South of the intersection of Springwater Road and Redland Road, on the West side of the road.
At Pam's request, this is to be a true celebration, starting with a barbeque, and continuing with an upbeat atmosphere. There will be plenty of time to reminisce, remembering the good times and funny incidents that you recall in your contact with her.
The barbeque meat and beverages will be provided. If anyone wants to bring additional side dishes, appetizers, salads of any kind and desserts would be welcome.
Please come and help us to remember the special person she was.
If you have any questions or help with directions, please call me at 503-631-8384.
Thank you!
Dick Jaeger
Kathy Chamberlain
Our very dear friend, Kathy Chamberlain, passed away suddenly on Sunday, March 13th.  Kathy will be dearly missed by everyone who knew her.
Kathy Chamberlain (02/19/1947 03/13/2011), 64, of Portland passed away March 13, 2011. Born Kathleen Siberz in Oakland, Calif., to Tom and Mary, she was the oldest of nine children. She leaves her mother, Mary; and sisters and brothers, Margi, Patti, Sally, Barb, John, Jim, Claire and Tina. Kathy grew up in Southeast Portland, and attended Ascension Catholic Grade school and Marycrest High School, graduating in 1965. After spending the summer in Alaska, Kathy went to work at Farmers Insurance. That started a full career in the insurance business. Kathy met and married Jan Hansen and they had a wonderful son, Brett. Ten years later, she met and married Steve Chamberlain. They started their own insurance agency, Chamberlain Insurance, in Montavilla. The love of her life was always animals-mainly dogs. She got her first puppy, Penny, at age 5 and has had at least one dog throughout her whole life. She also loved having guinea pigs, hamsters, cats and different kinds of birds. She brought home a lot of strays. She got involved in the dog world and earned many trophies and ribbons for her dogs, competing in obedience and agility. She left Beamer, Katy and Kirby. Kathy will be greatly missed by a variety of friends, including a bunco group started in 1971, and her dog world friends. She leaves behind her son, Brett and his wife, Christina, and granddaughter, Elle Hansen; as well as her Chamberlain grandchildren, Alex, Domineque, Anthony, Chris, Andrew and Spencer.
You may also sign her guest book: http://www.legacy.com/guestbook/oregon/guestbook.aspx?n=kathy-chamberlain&pid=149368442&cid=full