Portland Dog Obedience Club, Inc.
Obedience and Rally Trials
Saturday July 19 2014
Portland Metropolitan Exposition Center
Entries close Wednesday,July 2, 2014
Premium List here:
Stumptown Combined Speciallties
Premium List – Stumptown Combined Speciallties
NEW for 2014 - WARM UP RINGS!
To help your dog prepare for the ring environment,
Warm up rings will be available for Conformation and Companion Events.
Rings will be monitored by club members – $5.00 for 5 minutes of warm up,
Sign up with monitor at ring side and sign waiver.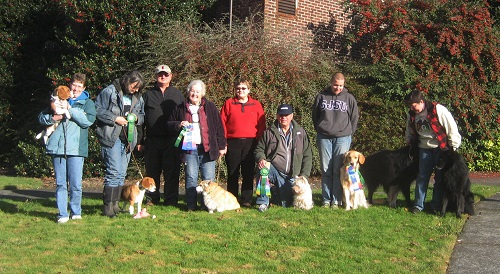 History was made on January 1, 2014 when PDOC held the first Tracking Dog Urban test west of the Rockies.
Thanks to Kay Pedisich for the picture.
Left to right are: Ellen Parr with "Axel", Margie Dykstra with New TDU "Maestro", judge Curt Curtis, Jill Jones with New TDU "Van", judge Karla Curtis, Sil Sanders with New TDU "Q", Megan Hundley with New TDU "Beckett", and Peggy Miller with "Ranger" and "Chuck".
Many thanks to our TDU team: Jim Corbett – Test Secretary, Nancy Thorson – Chief Track Layer, Pat Houston, Kay Pedisich and Kay Deines – Track Layers, Carolyn Wray and Kari Kerr for the wonderful Hospitality AND Curt and Karla Curtis our esteemed judges!
Thank you to all who came and we hope to see you again next year!