Portland Dog Obedience Club, Inc.
2014 Variable Surface Tracking Test
Sunday, March 16, 2014
University of Portland
500 N. Willamette Blvd., Portland, OR 97203
Limited to 4 Entries
Judges: Karla Curtis and Tannis Witherspoon
Entries close Wednesday,March 5, 2014 – 6:00 PM
Tracking Test Secretary
James S. Corbett
23525 NW Howell Drive, Banks, OR 97106
503-880-1504 / jim.corbett1142@gmail.com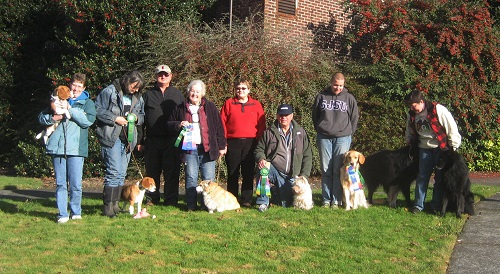 History was made on January 1, 2014 when PDOC held the first Tracking Dog Urban test west of the Rockies.
Thanks to Kay Pedisich for the picture.
Left to right are: Ellen Parr with "Axel", Margie Dykstra with New TDU "Maestro", judge Curt Curtis, Jill Jones with New TDU "Van", judge Karla Curtis, Sil Sanders with New TDU "Q", Megan Hundley with New TDU "Beckett", and Peggy Miller with "Ranger" and "Chuck".
Many thanks to our TDU team: Jim Corbett – Test Secretary, Nancy Thorson – Chief Track Layer, Pat Houston, Kay Pedisich and Kay Deines – Track Layers, Carolyn Wray and Kari Kerr for the wonderful Hospitality AND Curt and Karla Curtis our esteemed judges!
Thank you to all who came and we hope to see you again next year!