Portland Dog Obedience Club, Inc.
2014 Tracking Dog Test / 2014 Tracking Dog Excellent Test
TD and TDX Tests – Sunday, November 9, 2014 – Champoeg State Park, St Paul, Oregon
PDOC Premium List for the 2014 TD/TDX events
Closing date: October 30, 2014
Tracking Test Secretary:
James S. Corbett
23525 NW Howell Drive, Banks, OR 97106
503-680-1504 / jim.corbett1142@gmail.com
July 23, 2014
The 2014 Obedience Advisory Committee met in June to discuss the future of the sport and to review the more than 1,000 suggestions submitted by the Fancy. The committee members have more than 260 combined years in the sport of obedience! They put a great deal of thought into what the Fancy was asking to change, in order to produce meaningful recommendations that will move the sport of obedience into the future, while keeping in mind the importance of the past. The committee is continuing to discuss additional sport related changes and once complete, additional recommendations will be forthcoming for comment.
The following recommendations of the Obedience Advisory Committee are being published so the Fancy may provide feedback before the recommendations are finalized. Please feel free to share this link with your fellow dog friends and club members. Only one submittal per person should be provided.
You should refer to the entire list of recommendations on the PDF document at the link below to see the complete information before providing feedback. To provide feedback, select a recommendation from the link below and choose from the condensed information in the drop-down list. Please rate the item using the selection criteria; there is a comment box for brief comments regarding that particular recommendation. If you wish to comment on additional recommendation(s), use the RATE ADDITIONAL RECOMMENDATION link to add additional sections. Be sure to click SUBMIT at the bottom when you are ready to send your comments to AKC.
Comments will be taken until the deadline date of:
Wednesday, August 20, 2014 at 12 Noon Eastern Standard Time
Click here to go to a condensed list of recommendations to provide feedback.
Click here to view a PDF of the entire recommendations.
Sincerely,
Pamela Manaton
Director of Obedience, Rally & Tracking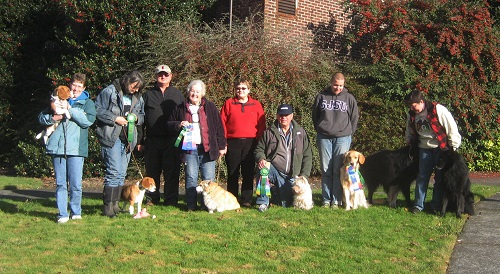 History was made on January 1, 2014 when PDOC held the first Tracking Dog Urban test west of the Rockies.
Thanks to Kay Pedisich for the picture.
Left to right are: Ellen Parr with "Axel", Margie Dykstra with New TDU "Maestro", judge Curt Curtis, Jill Jones with New TDU "Van", judge Karla Curtis, Sil Sanders with New TDU "Q", Megan Hundley with New TDU "Beckett", and Peggy Miller with "Ranger" and "Chuck".
Many thanks to our TDU team: Jim Corbett – Test Secretary, Nancy Thorson – Chief Track Layer, Pat Houston, Kay Pedisich and Kay Deines – Track Layers, Carolyn Wray and Kari Kerr for the wonderful Hospitality AND Curt and Karla Curtis our esteemed judges!
Thank you to all who came and we hope to see you again next year!